IN THE FOOTSTEPS OF THE BIGGEST NAMES...
At 15, Eric entered into the kitchen like a religion: it was his vocation. He completed his apprenticeship at the Hotel Central de Renaison and since then has strung together the best names: Maison Troisgros in Roanne, Bernard Loiseau in Saulieu, Pierre Gagnaire in Saint Etienne, Antoine Westermann in Strasbourg, La Belle Otéro in Cannes, Régis Marcon in Saint-Bonnet-le Froid … it is in contact with these icons of French Gastronomy that he was able to develop his personality, enriching his own culinary language.
ERIC PRAS, PRODUCT FIRST!
Simplicity and elegance at the service of emotion.

Creative and demanding, Eric Pras was able to make his mark on the Maison Lameloise menu, thus giving new life to this mythical table. His cuisine, fresh, precise and delicate, banished the balance of power. It is thought around the product, to put it forward: this is the recipe that enhances the land. Particular attention is paid to pairing food and wine.
MEET THE TEAM BEHIND CHEF ERIC PRAS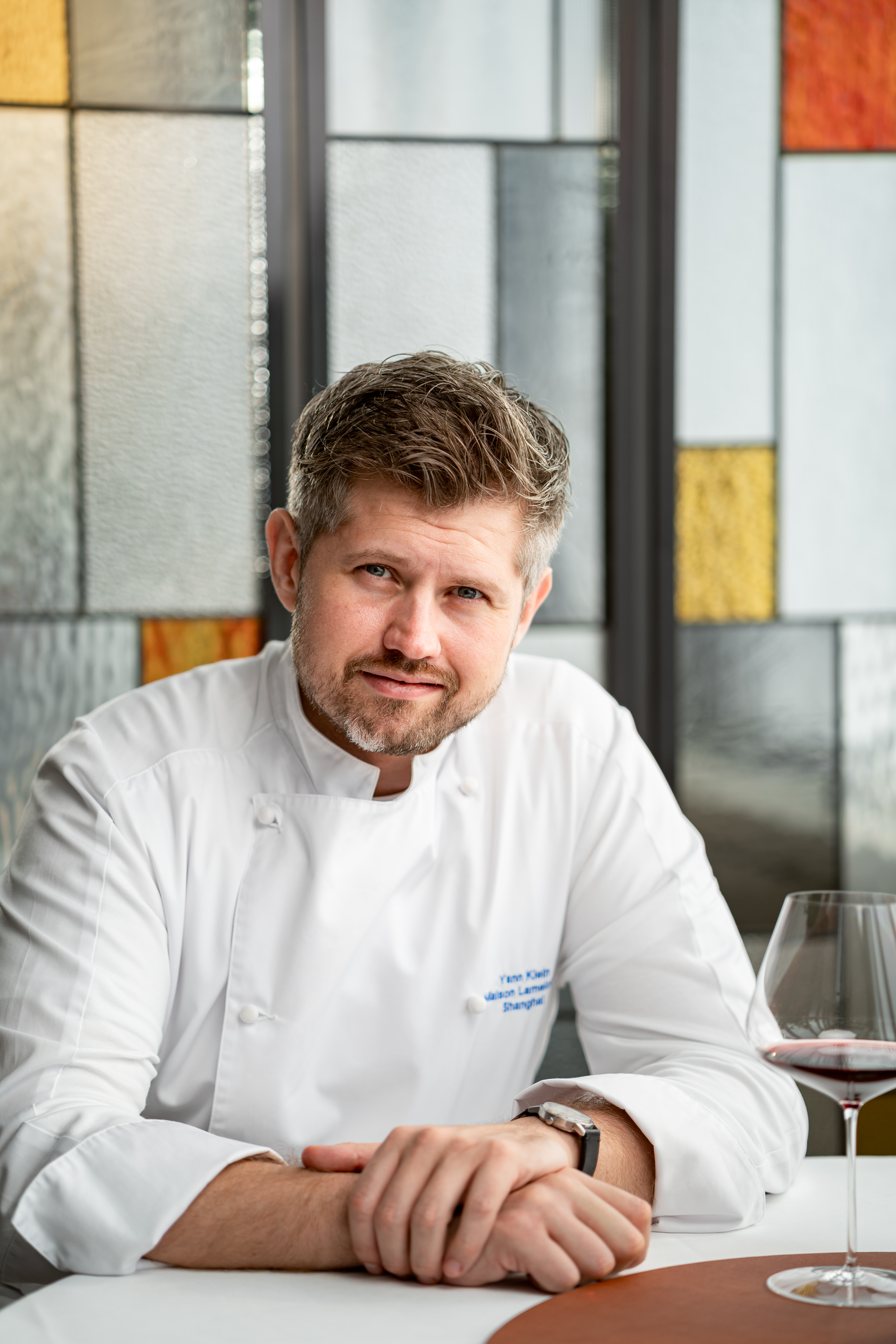 YANN KLEIN
Executive Chef
Originally from Alsace, He debuted his apprentice at the age of 16. After studying in culinary school, he obtained the Bachelor Culinary Management at Institut Paul Bocuse in France and worked with the leading French Michelin-starred chefs including Anne-Sophie Pic (Beau-Rivage Palace, two Michelin stars) and Emmanuel Renaut (Flocon de Sel, three Michelin stars).
Chef Klein joined Maison Lameloise in May 2012 and cooked alongside internationally renowned, three-Michelin starred Chef Eric Pras.
Working with Michelin-starred chefs allowed Yann Klein to accumulate a variety of gastronomic knowledge, to experience different culinary approaches and to discover a diversity of authentic products and tastes.
His passion, his trustworthiness and his rigorous discipline have been key to success in building his career as a chef.
Unquenchable thirst for precision, constant challenge and improvement are part of his mission in seeking excellence and fineness in Maison Lameloise. Eric Pras has certainly well transmitted his passion for culinary delight to the young chef.
As Chef Pras, Yann Klein advocates the honest and generous cooking, the 'balance of power' in recipes and, of course, the delicacy.
The pleasure of the palate is essential to Chef Klein, as he believes that gourmandize is the most valuable asset in his profession. Then comes the conviviality of bringing people around the same table for a sophisticated culinary journey in one of the most iconic monuments of the city of Shanghai.
KEVIN CHATAIN
Restaurant Director
Born and raised in Auvergne, Kévin started at the age of 16 alongside Martine & Jacques Decoret (Maison Decoret, one Michelin star) as the same time he was going to hospitality school.
Once his diploma in his pocket he decided to choose a three Michelin stars restaurant to start his career. The choice was Régis & Jacques Marcon (where Eric Pras used to work). After a few years it was time for a new challenge, he took off to England, and joined Raymond Blanc and his team at Le Manoir Aux Quat'Saisons (two Michelin Stars). When Kévin saw the opportunity of Joining the adventure of Maison Lameloise Shanghai he did not hesitate. He joined the team of Maison Lameloise in Burgundy in order to understand the chef's vision and culinary universe as well as discovering the best of what burgundy has to offer.
Kévin looks forward to welcoming a sophisticated and diverse clientele, but also transports them for a moment in the universe of a century-old restaurant proudly holding three Michelin stars.The duo they form with the Executive Chef Yann Klein aims to bring a touch of youth while honoring the House's legacy and maintaining the level of excellence that has been inculcated in them by Chef Eric Pras.
GUILLAUME GAUTIER
Pastry Chef
Born and raised in Normandy and Oise, Guillaume developed his passion for gastronomy at a young age. He quickly understood that hard work is key when he started his apprenticeship as a cook in the west of Paris.
In 2009, he gains interest in Pastry and decided to fully dedicate himself to this art. It is in Chateau Mont Royal that everything began and where he developed his passion for desserts.
After working his way up in La table du Lancaster (1 Michelin star), he joined Le Chateau de Chantilly (2 Michelin Star). For the same hotel group, he accepted the challenge to be transferred to Africa. As an executive pastry chef, he overlooked the entire pastry operation for 5 hotels.
Chef Guillaume Gautier enjoys associating different and opposite products. One of his favorite combinations is sweet and sour, matching fresh fruits with sharp and crisp vinegars. Finding a subtle balance between opposite products is an interesting challenge for the creation of new desserts.
His technic is influenced and enhanced by his vast gastronomic knowledge. Starting his career as a cook gave him a different approach to pastry. With his different experiences in France and aboard, Eric Pras is counting on Guillaume and his talent to manage and lead the Pastry team with the same rigor and generosity as it is done in Chagny.